And now for something completely different:
Team Teamwork
, a blog group that prides themselves on "ghettotech" hip hop remixes, has recently compiled an album of mash-ups that take instrumentals from everyone's favorite game in the Legend of Zelda series, The Ocarina of Time, and overlay them with rap from some of today's better MCs.
The Ocarina of Rhyme
is available for digital download pretty much anywhere online, so get to it!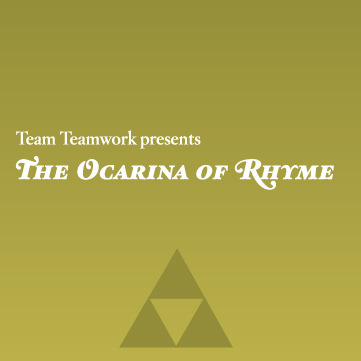 To some the album may seem lame or nerdy (and it might actually be a little of both) but fans of old-school rap and old-school video games, which I'm sure there are a ton of, will be really pleased. The editing is done very well and the separate elements of each song were carefully chosen to fit together surprisingly well. The
first track
, which mashes
Clipse
's
"Virginia"
with the Lost Woods theme, is especially ironic in its combination of the most playful tune in the game with some pretty serious lyrics. The team does interesting work with
"Still D. R. E."
and the brief 6-second sample that accompanies Link's discovery of a treasure by altering the speed, chopping it up, and flipping it around to make a pretty royal accompaniment to
Snoop Dogg
's and
Dr. Dre
's rhymes. The best tracks, however, use the more simple and repetitive rhythms that play in the background during the game (and are thus deeply ingrained into the player's memory.) These include the mix of Goron Village's somewhat tribal percussion-and-yelping theme with
Aesop Rock
's
"No Jumpercables,"
Spank Rock
's dirty
"IMC"
over the serene and subtle theme from Zora's Domain, and the
"Still Tippin'"
duet between
Slim Thug
and
Mike Jones
with the high-pitched fantasy-synth melody found in all four Great Fairy fountains. The album is short, sweet, and a ton of fun, especially for those nostalgic types like myself, so go make like Link and explore the depths of google.com until you stumble upon this hidden treasure.